Rubber composite strip extruder production line
---
  橡胶挤出机性能特点 1. 本机采用交流电机,变频调速,其调速范围大,对生产不同规格的橡胶制品适应性大,操作方便。 2. 本机使用硬齿面橡胶挤出机减速器,其噪音低,传动扭矩大,传动平稳,维修方便。 3. 本机采用冷却喂料辊强制进料,可加工多种橡胶条料,挤压密度大,制品效果好。 4. 本机设有双通道温度自动控制仪,加热时温度波动小,根据不同加工工艺能理想的选择加热温度,并能自动控制被加热的机筒、机头的设定温度。 5. 本机采用机筒水加热,也可使用蒸气加热。机筒采用循环冷却,能即时冷却物料,以避免物料分解。
Rubber composite strip extruder production line
Rubber, rubber and plastic extrusion line

Rubber composite strip extruder production line
---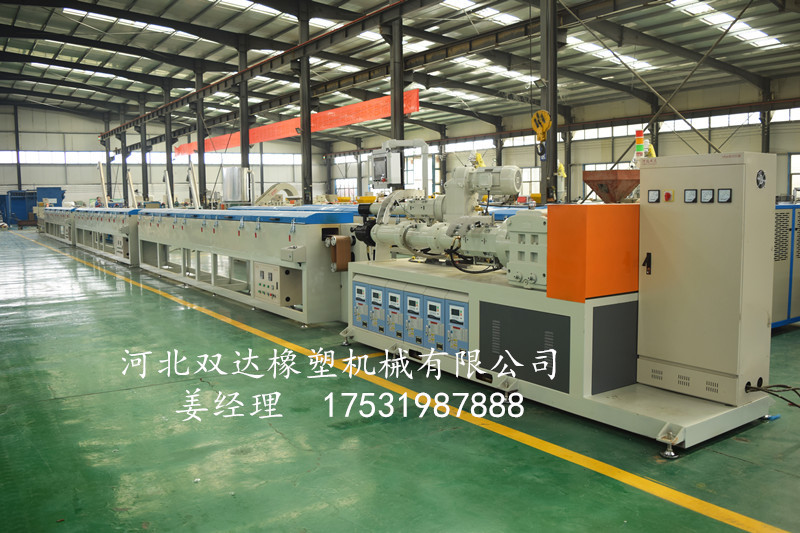 Performance characteristics of rubber extruder
1. The machine adopts AC motor, frequency conversion speed regulation, the speed regulation range is large, the production of different specifications of rubber products adaptability, easy to operate.
2. This machine uses hard tooth surface rubber extruder reducer, its low noise, large transmission torque, smooth transmission, easy maintenance.
3. This machine adopts cooling feed roller to force feed, can process a variety of rubber strip material, high extrusion density, good product effect.
4. The machine is equipped with a double channel automatic temperature control instrument, the temperature fluctuation is small when heating, according to different processing technology can choose the ideal heating temperature, and can automatically control the heating cylinder, the setting temperature of the machine head.
5. This machine adopts cylinder water heating, can also use steam heating. The barrel is cooled by circulation, which can cool the material immediately to avoid material decomposition.
Shuangda

Hebei Shuangda Rubber Machinery Co., Ltd.
---
Copyright © 2022 Hebei Shuangda Rubber Machinery Co., Ltd.