Rubber composite production line
---
  1.工作原理  挤出成型是在特定条件下将具有可塑性的胶料通过一个口型连续压送出来,使它成为具有断面形状的产品的工艺过程。  胶料沿螺杆前移过程中,由于机械作用及热作用的结果,胶料的粘度和塑性等均发生了变化,成为一种粘性流体。根据胶料在挤出过程中的变化,一般将螺杆工作部分按其作用不同大体上分为喂料段、压缩段和挤出段三部分。 2、冷喂料挤出  优点:节省热炼设备,易于实现机械化、自动化,而且由于主机强化了螺杆的剪切及塑化作用,使胶料获得均匀的温度和可塑度;改善了挤出制品的质量,增加了表面光洁度,挤出半成品具有较稳定一致的尺寸规格;冷喂料压出队压力的敏感性小;应用广,灵活性大;冷喂料挤出机的投资和生产费用较低。  3、设备特点 适合挤出橡胶(三元乙丙、天然、丁青、丁基、再生),用于建筑用门窗密封条、汽车密封条的复合条、单挤出条的生产以及建筑、电器、机械、水利等带状、条状、管状、板状等不同形状密实及发泡橡胶制品的生产。 冷喂料橡胶密封条挤出机:是用冷橡胶来进行生产的一种设备,设备的喂料方式一般情况下都是强制冷喂料。冷喂料橡胶挤出机的特点是生产效率高,生产稳定。 一般挤出机多用于生产密封条,橡胶管等可以用挤出工艺来进行生产的产品。挤出机是用于挤出胎面、内胎、胶管和橡胶型条的橡胶机械。
Rubber composite production line
Rubber, rubber and plastic extrusion line

Rubber composite production line
---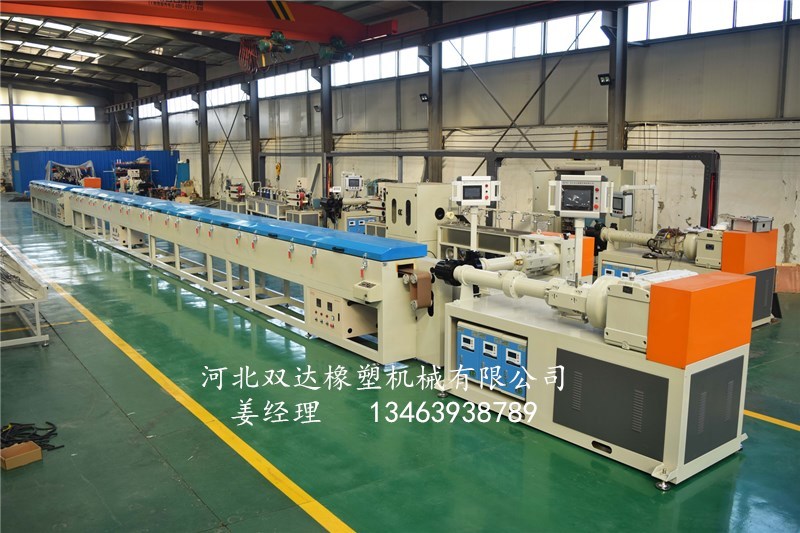 1. Working principle
Extrusion molding is a process in which the plastic material is continuously pressed out through a mouth shape under specific conditions, so that it becomes a product with a cross-section shape.
When the rubber material moves forward along the screw, due to the result of mechanical action and thermal action, the viscosity and plasticity of the rubber material have changed and become a viscous fluid. According to the change of rubber in the extrusion process, the working part of the screw is generally divided into feeding section, compression section and extrusion section according to its different functions.
2. Cold feeding extrusion
Advantages: save heat refining equipment, easy to realize mechanization, automation, and because the main engine strengthens the shear and plasticization of the screw, so that the rubber material to obtain uniform temperature and plasticity; Improve the quality of extruded products, increase the surface finish, extruded semi-finished products have more stable and consistent size; The sensitivity of cold feeding pressure is small. Wide application, flexibility; The investment and production cost of cold - feed extruder is lower.
3. Equipment characteristics
Suitable for extruded rubber (EPDM, natural, butyl green, butyl, regeneration), used for building doors and Windows sealing strip, automotive sealing strip composite strip, single extrusion strip production and construction, electrical appliances, machinery, water conservancy and other different shapes of strip, strip, tube, plate and other dense and foamed rubber products.
Cold feeding rubber seal extruder: It is a kind of equipment that uses cold rubber to produce. The feeding way of the equipment is generally strong refrigeration feeding. The cold - fed rubber extruder is characterized by high production efficiency and stable production. Generally, extruder is used to produce seals, rubber tubes and other products that can be produced by extrusion process. Extruder is used for extruding tread, inner tube, rubber hose and rubber type strip rubber machinery.
Shuangda

Hebei Shuangda Rubber Machinery Co., Ltd.
---
Copyright © 2022 Hebei Shuangda Rubber Machinery Co., Ltd.