Rubber extruder
---
    可以用于橡胶工业,橡胶管、暖风管、夹线胶管、内胎、胶带、子口带等其他橡胶制品的挤出成型。也可用于小型压延机的热炼供应。冷喂料橡胶挤出机和一般橡胶挤出机相比具有生产能力高,胶料温度低,电能消耗少,混合效果好,塑化均匀,产量高等特点。 橡胶管挤出机自洁性优良。挤出机螺杆采用38Crmoala,并经过调质,硬度可到HV900以上。挤出机挤出的多种制品可根据产品生产工艺要求调节挤出速度。挤出机机头可方便拆卸,并具备挤出多种规格多腔功能。 冷喂料橡胶挤出机,由电动机通过减速机减速后带动螺杆转动,螺杆放置在一个带有销钉的机筒内,在螺杆的起始段,装一旁压辊,与螺杆作相对回转,将胶料强制性喂入,并从螺杆末段挤出,其特征是电机与减速机之间采用皮带传动并适当减速,减速机采用标准卧式硬齿面减速机,带动旁压辊的主动齿轮用一径向轴承定位,旁压辊通过轴承架固定在一个可以向下翻转打开的活门上,轴承架侧面上加工有螺旋返胶槽,带销钉的机筒采用对称结构。
Rubber, rubber and plastic extrusion line

---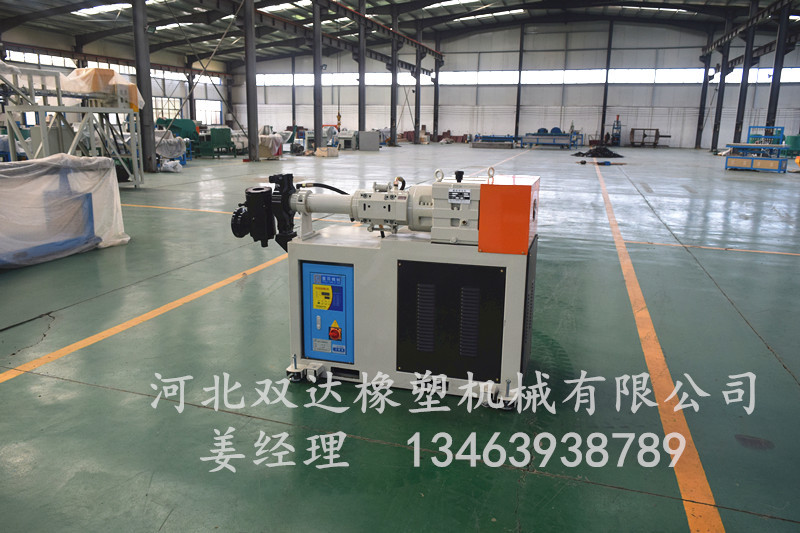 Can be used in the rubber industry, rubber pipe, warm air pipe, wire clamp hose, inner tube, tape, sub-mouth belt and other rubber products extrusion molding. Can also be used for small calender hot supply. Compared with general rubber extruder, cold feeding rubber extruder has the characteristics of high production capacity, low temperature of rubber material, less energy consumption, good mixing effect, uniform plasticizing and high yield.
Rubber tube extruder has excellent self-cleaning. Extruder screw using 38Crmoala, and after conditioning, hardness can be more than HV900. Extruder extrusion of a variety of products can be adjusted according to the product production process requirements extrusion speed. Extruder head can be easily disassembled, and has a variety of extrusion specifications and cavity function.
Cold feeding rubber extruder, the motor through the reducer deceleration drive screw rotation, screw is placed in a barrel with a pin, in the beginning of the screw, the side of the press roller, and screw for relative rotation, the rubber forced feed, and extruded from the end of the screw, the characteristics of the motor and the reducer between the belt drive and appropriate deceleration, The reducer adopts standard horizontal hard tooth surface reducer, the driving gear of the side press roller is positioned with a radial bearing, and the side press roller is fixed on a valve that can be turned down and opened through the bearing frame. The side of the bearing frame is processed with spiral rubber groove, and the barrel with pins adopts symmetrical structure.
Shuangda

Hebei Shuangda Rubber Machinery Co., Ltd.
---
Copyright © 2022 Hebei Shuangda Rubber Machinery Co., Ltd.