Epdm rubber tube extruder
---
  橡胶管挤出机生产线工作流程: 1.橡胶经过密炼和开炼。这时橡胶原胶和辅料经过密炼和开炼以后得到充分的融合。使胶管质量稳定美观。 2.橡胶挤出机挤出。经过开炼的胶片已成条状胶条。经过橡胶挤出机的挤出成型可生产出胶管的内管,使胶管内管的尺寸成型。 3.经过牵引。起传输运送功能。 4.针织编线。由牵引机牵引过来的胶管内管,经过针织机的编线。由输送口输送到下一环节。根据胶管的承受压力可调节针织的密度。 5.牵引。这一步和第三步一样。 6.挤出橡胶管的外管。这一步和上一步类似。由针织机编好线的胶管内管经过T型机头进入橡胶挤出机,从T型机头的另一侧出来是包裹好的橡胶管毛坯。 7.牵引传输和自动截管。这由牵引过来的成品毛坯设定好长度进行自动裁断。 8.装芯。装芯定型。 9.高压硫化。把穿好芯的胶管放入高压硫化罐进行硫化。 10.取产品拔芯。 11.出成品。
Epdm rubber tube extruder
Rubber, rubber and plastic extrusion line

Epdm rubber tube extruder
---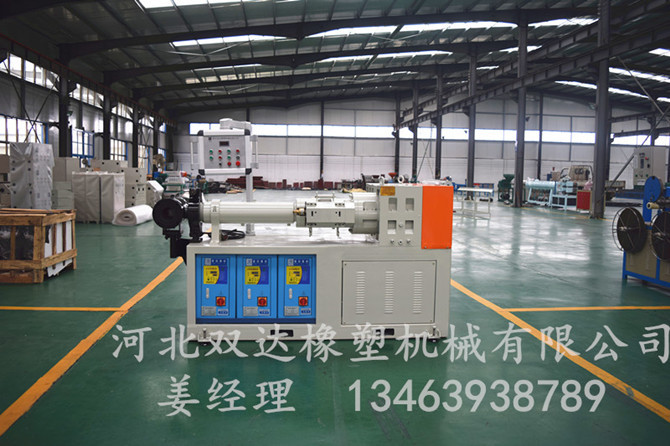 Work flow of rubber tube extruder production line:
1. Rubber is tightly tempered and opened. At this time, the rubber rubber and auxiliary materials are fully integrated after refining and opening. Make the quality of the hose stable and beautiful.
2. Rubber extruder extrusion. The film has been opened and tempered into strips. Through the extrusion molding of rubber extruder can produce the inner tube of the rubber tube, so that the size of the inner tube of the rubber tube is formed.
3. After traction. Start the transport function.
4. Knitting thread. The inner tube of the hose drawn by the tractor passes through the knitting machine. From the conveyor port to the next link. The knitting density can be adjusted according to the pressure of the hose.
5. Traction. This step is the same as step three.
6. Extrude the outer tube of the rubber hose. This step is similar to the last step. The inner tube of the rubber tube knitted by the knitting machine enters the rubber extruder through the T-shaped head, and out of the other side of the T-shaped head is the wrapped rubber tube blank.
7. Traction transmission and automatic pipe cutting. The length of the finished blank drawn over is set for automatic cutting.
8. Install the core. Core shaping.
9. High pressure curing. Put the cored hose into the high pressure vulcanizing tank for vulcanizing.
10. Remove the core of the product.
11. Produce the finished product.
Shuangda

Hebei Shuangda Rubber Machinery Co., Ltd.
---
Copyright © 2022 Hebei Shuangda Rubber Machinery Co., Ltd.