200 rubber glue filter
---
Properties: The use of screw extrusion, conveying, the rubber material or recycled rubber in the removal of impurities. It is mainly composed of screw, barrel, filter head and transmission device. The filter head is provided with a hole plate and a filter screen, the hole plate is used to support the filter screen and is the discharge port, its aperture is 4~8mm, is a conical hole expanding along the direction of the flow of rubber material. The screw length-diameter ratio of the rubber filter is generally about 5.   性质:利用螺杆推挤、输送作用,把胶料或再生胶中的杂质清除掉的机械。主要由螺杆、机筒、滤胶机头和传动装置等组成。滤胶机头上装有孔板及过滤网,孔板用于支撑过滤网并为排料口,其孔径为4~8mm,是沿胶料流动方向扩张的锥形孔。滤胶机螺杆长径比一般为5左右。 滤胶机安全操作规程 1.过滤之前须将机头机身预热到规定温度; 2.电机负载不能过规定值(160安培); 3.正常过滤时,滤橡胶温度不得过140℃,氯丁胶不得过105℃; 4.已烧焦的混合胶不得过滤,过滤后的混合胶不得有焦烧粒子; 5.冷胶不得过滤,若需过滤冷胶时,须压软之后才可过滤; 6.不得将金属等杂物加入到滤胶机中; 7.严禁用手往加料器重塞胶,或运转时用手往外取胶。
Rubber, rubber and plastic extrusion line

---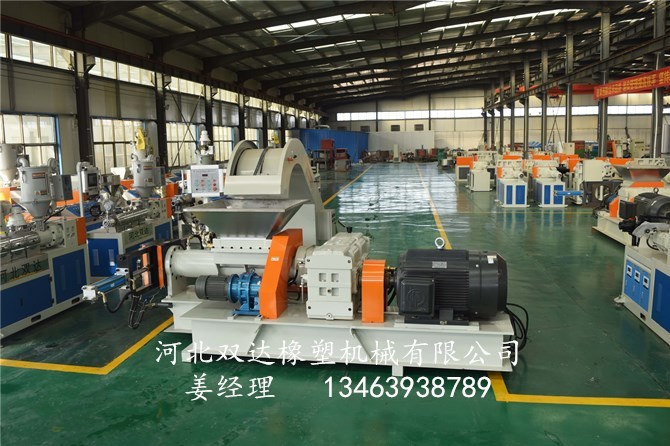 Properties: The use of screw extrusion, conveying, the rubber material or recycled rubber in the removal of impurities. It is mainly composed of screw, barrel, filter head and transmission device. The filter head is provided with a hole plate and a filter screen, the hole plate is used to support the filter screen and is the discharge port, its aperture is 4~8mm, is a conical hole expanding along the direction of the flow of rubber material. The screw length-diameter ratio of the rubber filter is generally about 5.
Rules for safe operation of rubber filter
1. Preheat the nose body to the specified temperature before filtering;
2. The motor load cannot exceed the specified value (160 amps);
3. Normal filtration, filter rubber temperature shall not exceed 140℃, neoprene rubber shall not exceed 105℃;
4. The burnt mixed glue shall not be filtered, and the filtered mixed glue shall not have burnt particles;
5. Cold glue shall not be filtered, if it is necessary to filter cold glue, it must be pressed soft before filtering;
6. Metal and other sundries shall not be added to the glue filter;
7. It is strictly prohibited to re-plug glue into the feeder by hand, or take glue out by hand when running.
Shuangda

Hebei Shuangda Rubber Machinery Co., Ltd.
---
Copyright © 2022 Hebei Shuangda Rubber Machinery Co., Ltd.