Compound rubber tube extruder
---
  可以用于橡胶工业,橡胶管,暖风管,夹线胶管,内胎,胶带,子口带等其他橡胶制品的挤出成型,也可用于小型压延机的热炼供应。冷喂料橡胶挤出机和一般橡胶挤出机相比具有生产能力高,胶料温度低,电能消耗少,混合效果好,塑化均匀,产量高等特点。 橡胶挤出机,是橡胶工业的一种基本设备,是影响产品质量的关键设备之一,在轮胎和橡胶制品的生产过程中起着重要的作用。国外橡胶挤出机的发展经历了柱塞式挤出机、螺杆型热喂料挤出机、普通冷喂料挤出机、主副螺纹冷喂料挤出机、冷喂料排气挤出机、销钉冷喂料挤出机、复合挤出机等阶段。
Compound rubber tube extruder
Rubber, rubber and plastic extrusion line

Compound rubber tube extruder
---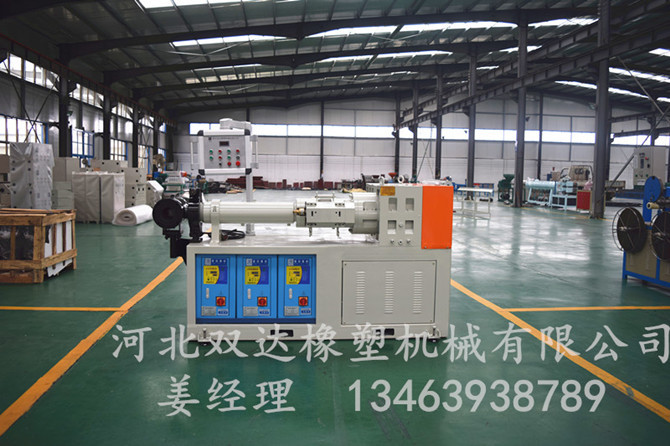 It can be used in the rubber industry, rubber pipe, warm air pipe, wire clamp hose, inner tube, tape, Zi mouth belt and other rubber products extrusion molding, can also be used for small calender hot smelting supply. Compared with general rubber extruder, cold feeding rubber extruder has the characteristics of high production capacity, low temperature of rubber material, less energy consumption, good mixing effect, uniform plasticizing and high yield.
Rubber extruder, is a kind of basic equipment in rubber industry, is one of the key equipment affecting product quality, plays an important role in the production process of tire and rubber products. The development of rubber extruder in foreign countries has experienced plunger extruder, screw type hot feed extruder, common cold feed extruder, main and secondary thread cold feed extruder, cold feed exhaust extruder, pin cold feed extruder, compound extruder and other stages.
Shuangda

Hebei Shuangda Rubber Machinery Co., Ltd.
---
Copyright © 2022 Hebei Shuangda Rubber Machinery Co., Ltd.